Hindsight Plastic Polish, Cleaner & Restorer
Hindsight has been developed by a world-leading company which has specialised in the use of plastics for over thirty years. It is used principally on cars but can be used on boats and light aircraft. Hindsight restores most plastic windows to virtually new condition by removing scuffs, surface damage and opaque areas. It is a unique product which gives results in 30 minutes.
New product - Hindsight Scratch Remover
A new product from Hindsight, launched in February 2017, Hindsight Scratch Remover is a powerful and safe compound for hand removal of even deep, isolated scratches in car bodywork, interiors and trim. If your car suffers from scuffs, scratches around door handles or locks caused by keys or nails, then this highly effective small jar will do the trick. Far cheaper than repainting and a very useful product to have on standby.

Despite being only 15ml, very little of the product is required to do the job, just a soft cloth and some patience. Hindsight Scratch Remover is very effective on even modern, hard clearcoat lacquers. Not to be used on glass or plastic convertible screens.

Hindsight Scratch Remover (15ml) costs only £6.99

Most convertible cars with a plastic rear screen suffer from the problem of the screen turning milky, opaque, scuffed and unsightly. This reduces rear vision, increases the risk of an accident and detracts from the appearance of the car reducing its value. This can be easily and inexpensively resolved by using Hindsight Plastic Restorer.

Hindsight resolves the problem of having to throw away an otherwise perfectly good hood - it has been tried and tested on a range of cars and impressive results have been seen on:

Hindsight was a winner of the John Logie Baird awards for innovation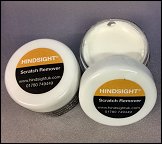 Hindsight Scratch Remover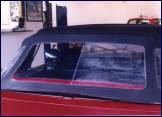 In the picture above the left of screen was cleaned with Hindsight
Alfa Romeo - Spider
Audi - 80, cabriolet
Bentley - Azure, Continental
BMW - E30, E36, Z3, Z4, Z8
Caterham
Fiat - Barchetta
Lotus - Elan
Honda - S2000
Mazda - MX5
Mercedes - SL, SLK
MG - MGF, MGTF
Peugeot - 205, 305, 206, 306
Porsche - 911 (993, 964, 996)
Renault - 19, Megane
Rolls Royce - Corniche
Rover - 216
Suzuki
TVR - Chimaera
Hindsight not only cleans your windscreen but also protects the plastic, providing prolonged clarity of vision. To see for yourself look at the examples, read the reviews and order Hindsight.